Dyeing Easter Eggs is so much fun and with our Homemade Easter Egg Dye you can dye the actual egg instead of the shell! Kid friendly Recipe anytime, not just Easter!
My daughter has a blast making and eating hard boiled eggs with our homemade Easter Egg Dye! We make steamed hard boiled eggs (see the post and video on how to steam hard boiled eggs) and then get to making our homemade easter egg dye.
Don't be fooled by the name, this recipe is not just for Easter! We love using it year round. We may not make all the colors all the time, we regularly do the purple and pink! 🙂
Making this homemade easter egg dye is super easy and you only need a few real food ingredients, you could even use vegetable scraps for this too!

How to make Homemade Easter Egg Dye:
Turmeric + Water = Yellow
Red Cabbage + Water + Baking Soda + Vinegar = Blue
Red Cabbage + Water = Purple
Red Beets + Water = Pink
Kids will have a blast eating hard boiled eggs or even a simple egg salad recipe with these edible pastel hard boiled eggs!
When making the blue with the baking soda and vinegar make sure you're doing it in a large container. I completely forgot while filming the video that vinegar and baking soda make things go "BOOM" and I had a huge mess. When you mix the blue just use a larger container than you need and then once it's mixed you can put it into the smaller container that you'll be using to dip your hard boiled eggs into.
You can use these dyes for either eggs with a shell or eggs without a shell. The eggs with the shell may not get the same color. Since we get pasture raised eggs they're always brown so that is why we dye the actual egg.
The longer you leave your eggs in the homemade Easter egg dye the more vibrant the colors will be. There's no need to allow the dyes to cool, but we do suggest letting them cool a bit because more of them use boiling hot water and that's not too kid friendly. 🙂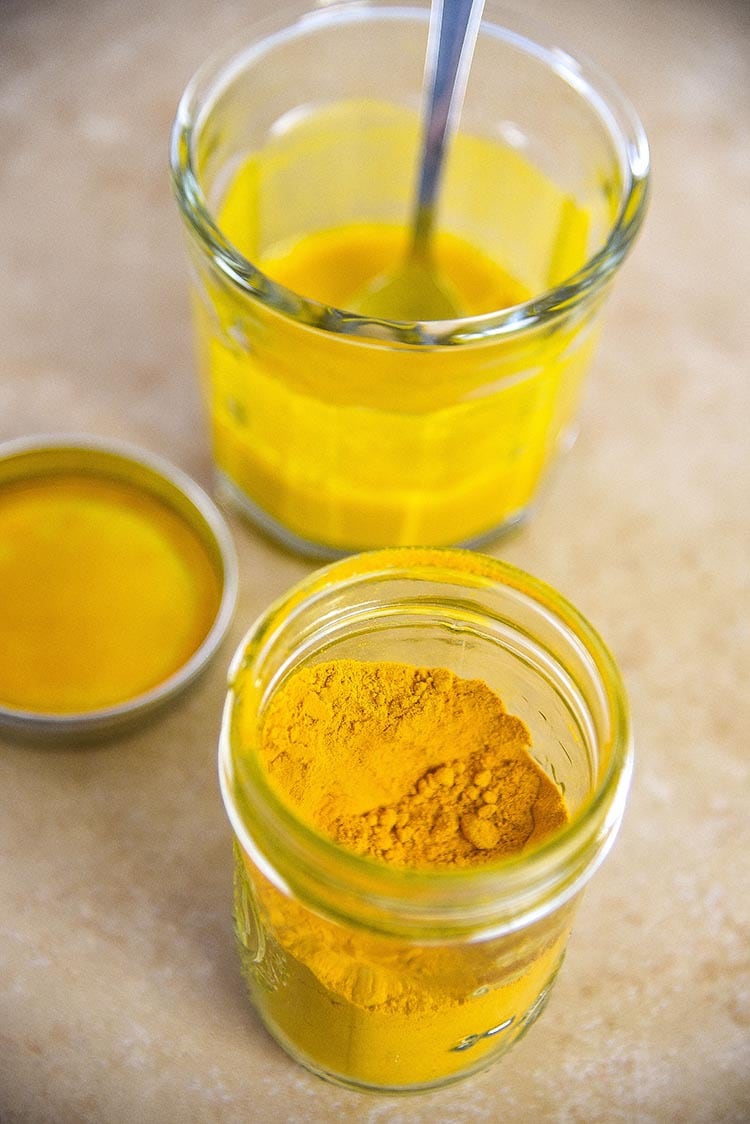 Homemade Easter Egg Dye (VIDEO)
Ingredients
Yellow
1 heaping teaspoon Turmeric
1 cup hot water
Purple
½ head of red cabbage shredded
water
Blue
1 cup Purple Mixture
1 teaspoon baking soda
1 tablespoon vinegar
Pink
1 cup chopped red beets
2 cups water
Instructions
Yellow
Mix the turmeric and water, set aside.
Purple
Place the cabbage in a saucepan and cover with water.
Bring to a boil and mash down with a potato masher to get the color out.
Strain out cabbage and allow water to cool before using.
Blue
Take some of the purple mixture and mix with the baking soda and vinegar. Please use a larger container than you'll be using for dunking the eggs to make sure it doesn't go all over.
Pink
Place the chopped beets and water in a saucepan.
Bring to a boil and allow the beets to color the water.
Remove the beets from the water and allow to cool before using.
If you liked this you'll love: