We're showing you how to make Chicken Broth for the refrigerator or freezer. You'll have cooked chicken for recipes and broth for any recipes that use chicken broth.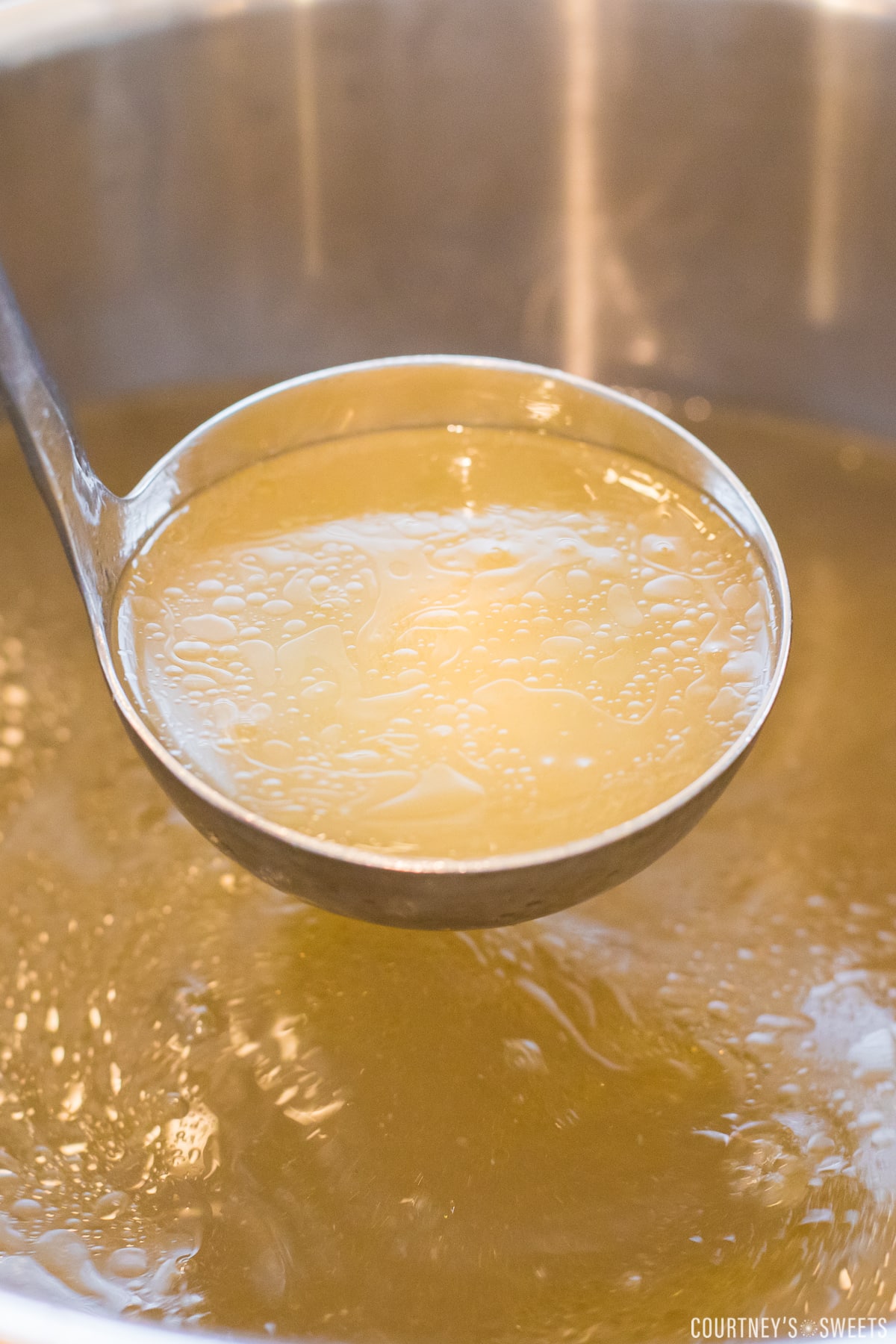 What's the difference between chicken stock and chicken broth?
Today I'm showing you how to make a simple chicken broth. We're using a raw, whole chicken. Chicken stock is made with raw chicken meat, chicken bones, and chicken skin. I prefer to use a whole chicken but you can also use cut pieces of chicken like bone-in breast, thighs, and legs. Homemade chicken broth usually cooks for 2 hours or less.
When making chicken stock you're going to use chicken bones, preferably without the meat so you don't waste it. Stock is usually cooked for a longer period of time. When making a stock I always use cooked bones. It's a great way to use something you'd otherwise throw away. You can always freeze any bones and once you have enough you can use them to make chicken stock.
This goes for all stocks and broths whether you're using animal bones like meat, poultry, seafood, or even vegetables.
They will also taste different. Chicken broth is light and flavor from the vegetables added. Chicken stock has more depth, it has a fuller mouthfeel as well from the long-simmered bones that release gelatin.
Recipe ingredient and notes
Whole Chicken:

For this recipe we're using a raw whole chicken. We usually get a 4 to 6lb chicken. You could also use any other cuts of chicken with bones and skin on.

Soup Vegetables: Our goto soup vegetables are carrots, celery, onion, and tomato. You could also add your favorites into this soup or any vegetable scraps. We also like to add parnsips if we're using for matzo ball soup.
Fresh herbs and spices: I use dill, parsley and thyme. You could add your favorites, Some like to add bay leaf as well.
Water: We use cool filtered water for this recipe.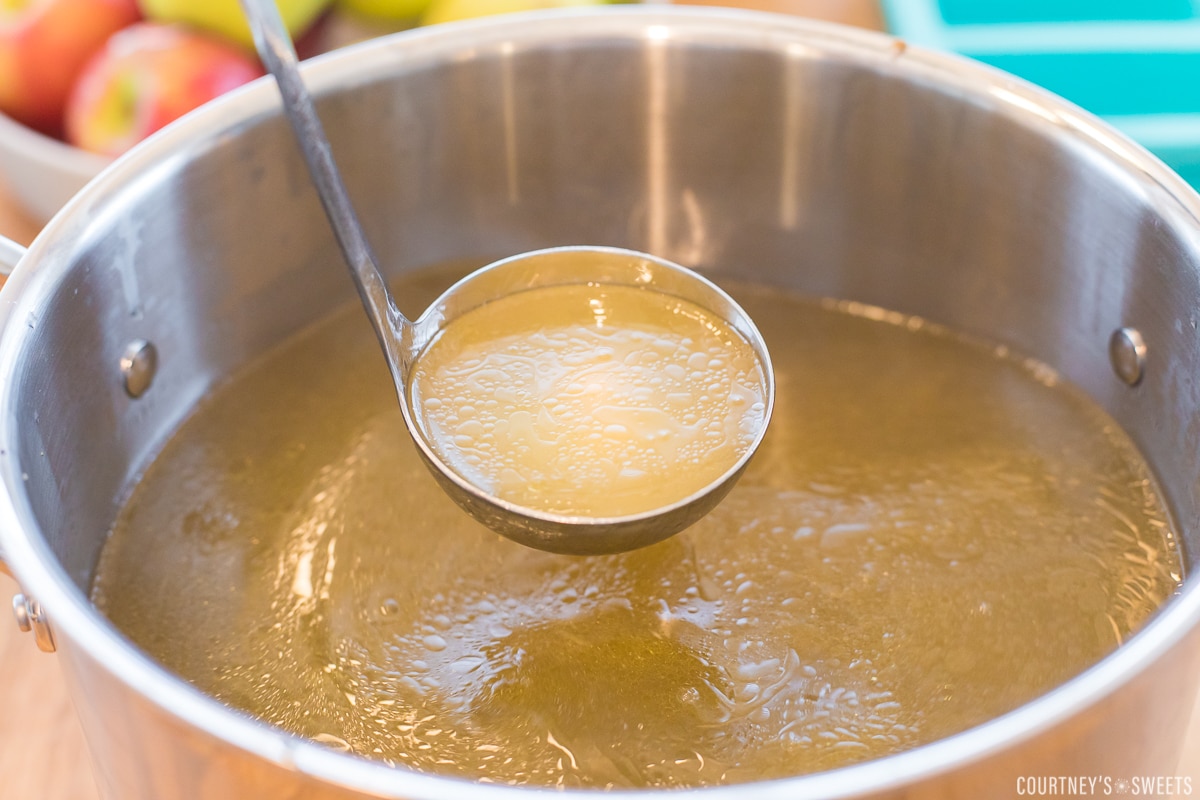 Step-by-step instructions
For the full ingredient amount and full instructions on how to make chicken stock see the recipe card below.
Place the whole chicken into a large stockpot. Add in the vegetables, herbs, and spices.
Bring to a boil and reduce to low heat. Cook for 1 1/2 hours.
Remove the chicken from the pot and turn off the stove.
Shred the chicken and then place it into an airtight container and refrigerate to use as desired.
Allow the soup to cool for about 30 minutes.
Use a wire strainer over a large pot or bowl to strain the soup.
Once the soup is strained place it into your desired containers to refrigerate or freeze. Leave some room if freezing for expansion.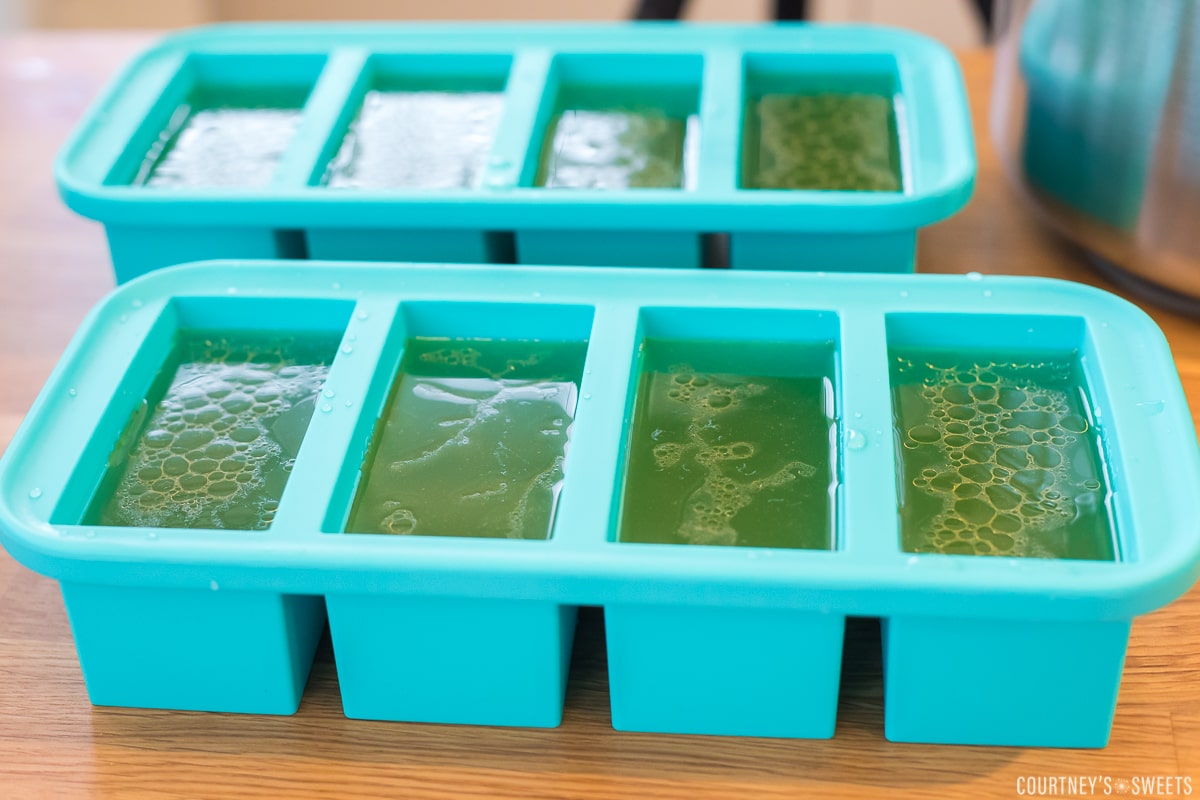 After refrigerating overnight skim the fat from the top of the broth. If you froze right away check the soup after 4-6 hours and skim the fat before fully frozen.
Recipe tips and variations
If you don't want to use a whole chicken you can use chicken pieces like bone in breast, bone in chicken thighs, and chicken drumsticks.
Freeze into 1 cup portions so you can easily grab some out of the freezer when you need chicken broth for a recipe.
You can save the leftover chicken fat for recipes. It should last 1 week in the refrigerator or 6 months in the freezer.
Storage and reheating tips
Refrigerate: Store any leftover broth in an air-tight container in the refrigerator and enjoy within 3-4 days.
Freeze: To freeze chicken broth pour it in an airtight freezer safe container and freeze for 5-6 months. We like using souper cubes and then transferring into stasher bags. We can fit 6 cups from the souper cubes into one stand up mega stasher bag.
Reheat: To reheat broth you can place into a bowl and microwave or ladle it into a small saucepan and heat on the stove.
Recipes using chicken broth
Frequently asked questions
Can I use leftover cooked chicken bones?
Yes, that is more of a chicken stock than a broth. It will be a little browner in color and the flavor will have a roasted flavor if the bones were roasted.
Is chicken stock the same as chicken broth?
Chicken stock is typically made with just cooked chicken bones while the chicken broth is made with raw chicken meat and bones. Both can have added vegetables and herbs.
What do I do with the leftover fat from the soup?
After skimming the fat from the chicken broth you can save it in a container in the fridge for a week or discard it. Some like to use chicken fat (schmaltz) for cooking. You can use it as you would olive oil to brown vegetables or even in matzo balls instead of oil.
Why is my chicken broth cloudy?
This could be due to a few reasons. 1. The water wasn't cold. 2. There are impurities in the broth, the fat can emulsify into the broth if it's boiled too long. 3. You shouldn't cover the stockpot.
How to Make Chicken Broth
How to make Chicken Broth for the refrigerator or freezer. You'll have cooked chicken and broth for any recipes that use chicken broth.
click the stars to rate this recipe
Print
Pin Recipe
Ingredients
4-6

lb

whole chicken

2-3

carrots

2-3

stalks celery

we use the small stalks inside with leafy greens for more flavor

1

large onion

quartered

1/2

tablespoon

kosher salt

1/4

teaspoon

pepper

1

handful dill

1

handful parsley

1/2

teaspoon

dried thyme
Instructions
Place the chicken into a large stockpot with giblets removed.

Put the rest of the ingredients over the chicken and cover with water about 10-16 cups of water depending on the size of your soup pot.

Place the stockpot onto the stove uncovered and heat on medium high heat until it just starts to boil. Reduce the heat to low and simmer for 1 1/2 hours until the chicken is fully cooked.

Once the chicken is cooked, remove the chicken. Pull the meat off the chicken and place the meat into an airtight container and refrigerate.

Allow the soup to cool for about 30 minutes and then strain all the vegetables and herbs from the broth.

Use as desired or place into containers in the refrigerator or freeze for later use.
Notes
Yield will depend on the amount of water used. We usually get about 12-13 cups of broth when using 16 cups of water.
Nutrition
Calories:
31
kcal
|
Carbohydrates:
2
g
|
Protein:
2
g
|
Fat:
1
g
|
Saturated Fat:
1
g
|
Polyunsaturated Fat:
1
g
|
Monounsaturated Fat:
1
g
|
Trans Fat:
1
g
|
Cholesterol:
6
mg
|
Sodium:
266
mg
|
Potassium:
70
mg
|
Fiber:
1
g
|
Sugar:
1
g
|
Vitamin A:
1494
IU
|
Vitamin C:
1
mg
|
Calcium:
9
mg
|
Iron:
1
mg
The nutritional information is automatically calculated and can vary based ingredients and products used. If the nutrition numbers are important for you we recommend calculating them yourself.
So nice to have you here! Did you try this recipe? ⭐ ⭐ ⭐ ⭐ ⭐ Be sure to leave a recipe rating! Also, tag us @courtneyssweets #courtneyssweets on Instagram so we can share it!