This Tri Color Pasta Salad is a quick and easy rotini pasta salad that is great for picnics and potlucks! We especially love making this tri colored pasta salad when entertaining or bringing food to family and friends.
This Tri Colored Pasta Salad is a family favorite recipe!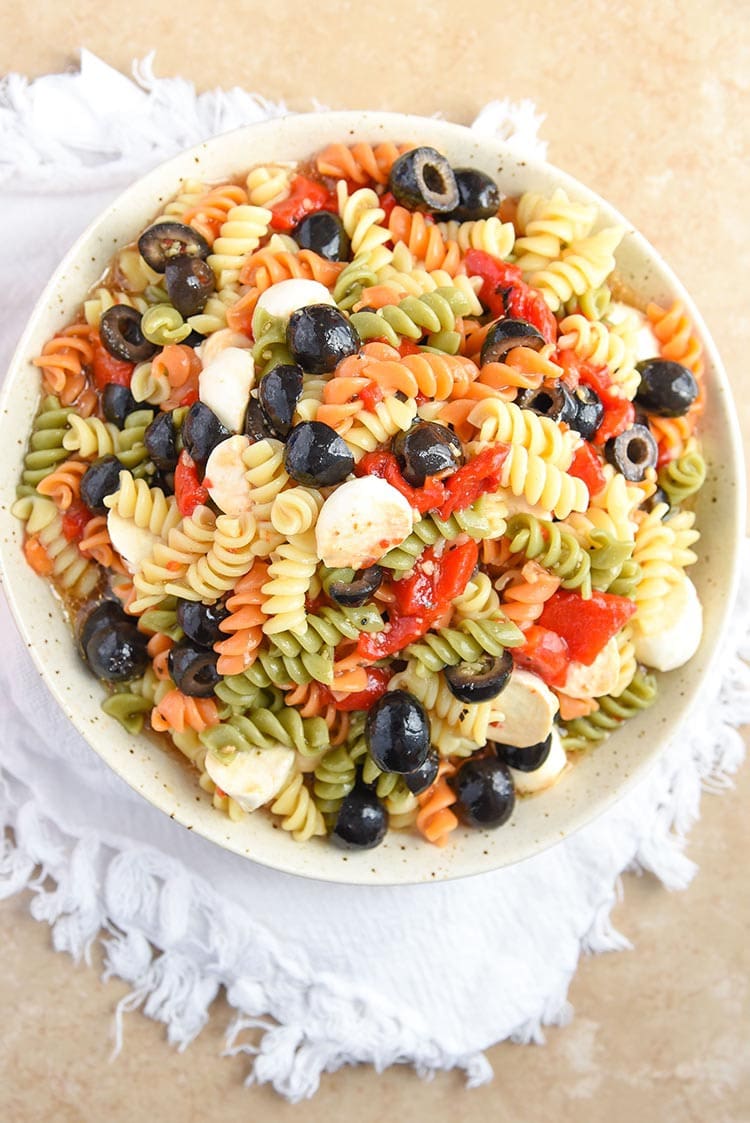 I grew up eating tri colored pasta salad, each bite is filled with memories! It's a really simple recipe and my Mini Chef is excited to show you how to make it. It's a great kid friendly recipe to show kids how to prepare recipes for big gatherings.
How to make Tri Color Pasta Salad
First, let's start with the essentials and options for making our tri color pasta salad recipe and how you can make the best tri color pasta salad recipe
tri color pasta – colorful pasta salad is so much more fun and when you use the tri color pasta you get green, orange and yellow. you can use plain pasta, but the tri colored pasta does have a different flavor that most know and love. We make ours a tri color rotini pasta salad, but if you find other pasta shapes you can use them for this pasta salad recipe too.
roasted red peppers – they're full of flavor and a great addition to this salad. you could also add hot peppers. read how to roast red peppers
olives – the olives give it that tang and they're an absolute must in this recipe, we used canned black olives and like the way the black olives work in this recipe. there's a big difference between green and black olives when it comes to flavor so make sure you use black to get the same delicious results.
Italian dressing – we make our tri color pasta salad with Italian dressing. it doesn't matter what brand, just use one you would put on a salad and that your family loves, or even make it homemade. You won't believe how delicious pasta salad with Italian dressing is, this dressing is not just for pasta and sala but also works really well on chicken!
cheese – we go for fresh mozzarella, but you can use chopped cheddar, pepper jack, the options are endless. I buy Ciliegine at my grocery store. Ciliegine mozzarella balls are bite-size mozzarella balls that are perfect for snacking, we just cut them in half. You could also get a big mozzarella cheese ball or log and chop it up into bite size pieces.
meats – you can add pepperoni or salami to this pasta salad, but we use this as a vegetarian pasta salad option, for that reason, we leave the meat out. my family has always made tri color pasta salad with pepperoni and salami.
veggies – tri color pasta salad with broccoli is a great way to pack in more veggies, we've also added fresh peppers, but find that broccoli is the best veggie to add if you want more vegetables in this pasta dish.
What is tri color pasta, does it contain food dyes?
That's a great question! Tri-Color Pasta is pasta in 3 different colors. Tri-Color Pasta is naturally dyed using real food ingredients. The orange is from tomato paste and the green is from dried spinach. These natural dye real food ingredients also give a great flavor to the dish. This may not be the same case with vibrantly colored pasta, but with tri-colored pasta there shouldn't be any dyes, just real food!
Everyone seems to have their variation of this Tri Color Pasta Salad. Our favorite way to make it is with roasted red peppers, olives, and mozzarella.
Growing up we made a different salad and used various Italian meats and cheese. Now I'm older and don't like too much meat and love mozzarella, that is when I created this delicious recipe!
Curious Chef 3-Piece Nylon Knife Set

For chopping, we bought our mini chef these curious chef knives. They're AWESOME! She can't cut herself with them at all and she loves her kids knives. These are our favorite kid safe knives, BUT we use them too! I love using them as a salad knife to chop up leafy greens, especially when I want shredded lettuce for tacos. If you're looking for knives for kids in the kitchen these are a great set.
This is a great side dish recipe to bring to potlucks, summer parties, BBQs, or even birthday parties! We love serving it to our family and friends. My mini chef had so much fun cutting up all the ingredients needed for this recipe.
This shot is priceless, it's the "please dressing, don't get all over me or the floor" look. 🙂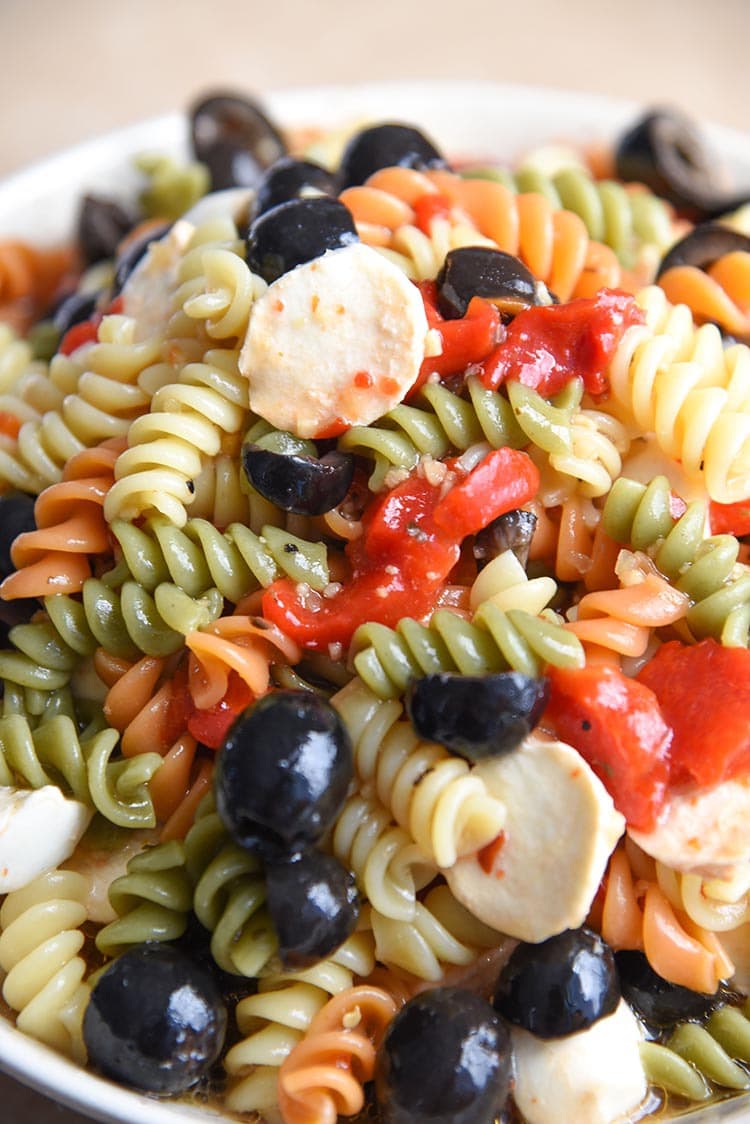 There are so many ways to make tri colored pasta salad recipes; they're all delicious!
We love making cold pasta salad recipes together since it's so easy to make. It's a great recipe to get your Mini Chef in the kitchen for Mini Chef Mondays. 🙂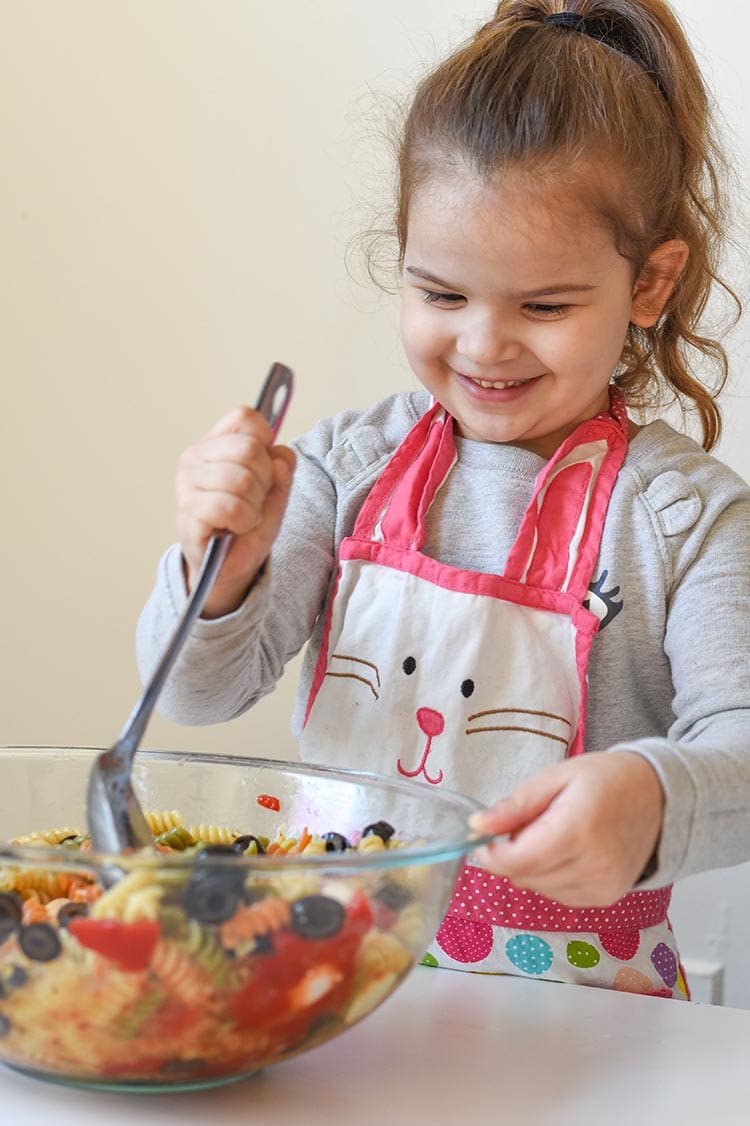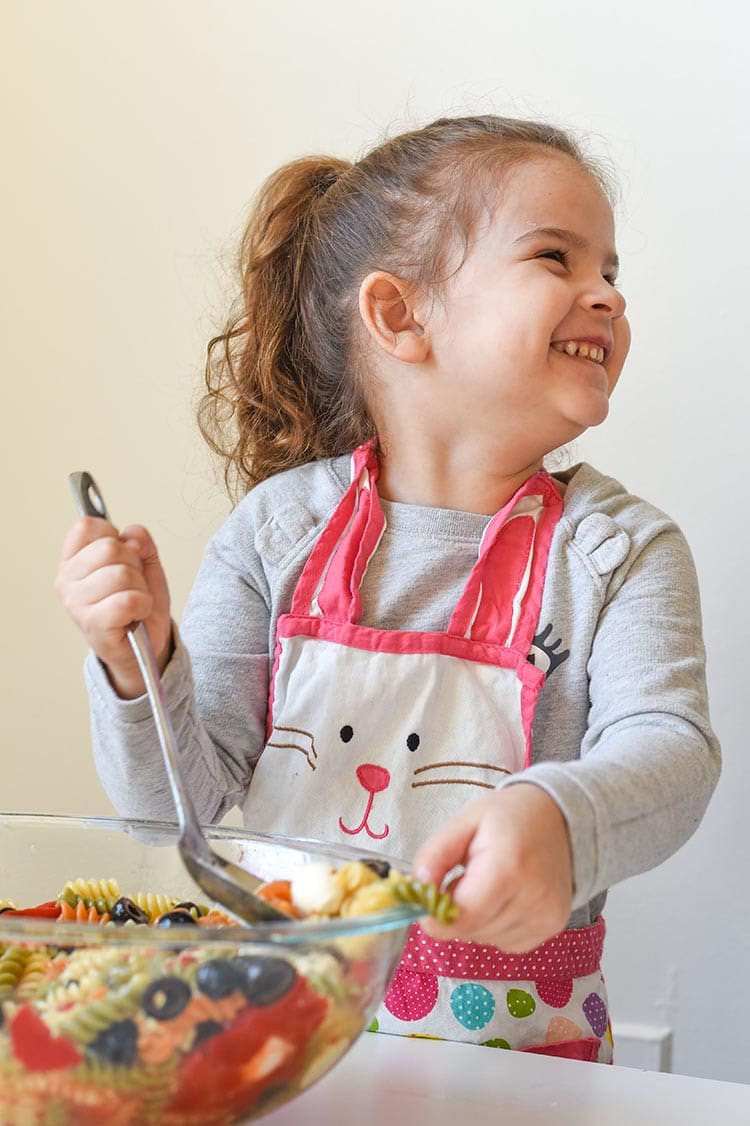 My mini chef loved making this recipe, but she loved making it even more with mommy and daddy.
We had a ton of fun making it together. It's one of our family favorite recipes and it's done within 20 minutes of starting. We like to let it sit in the fridge for a few hours before serving.

watch our video on how to make this Tri Color Pasta Salad Recipe
Pin to save our Tri Color Pasta Salad for later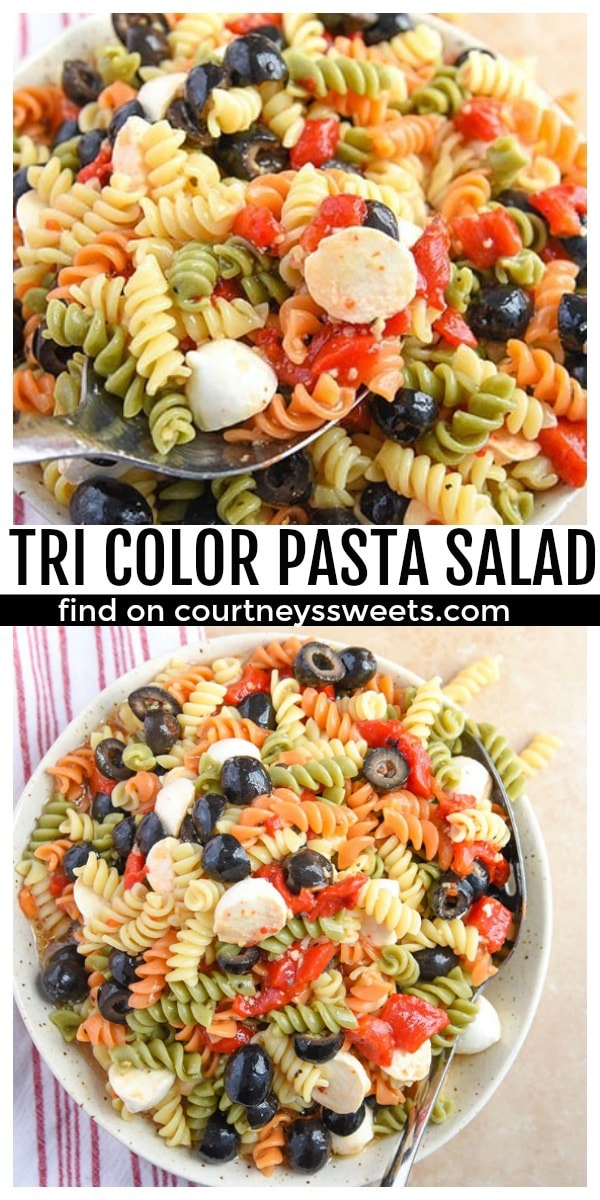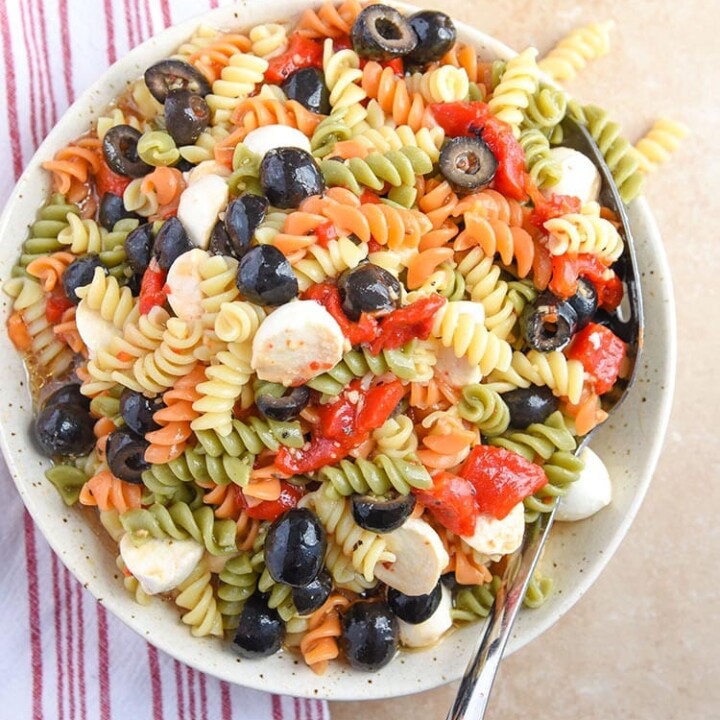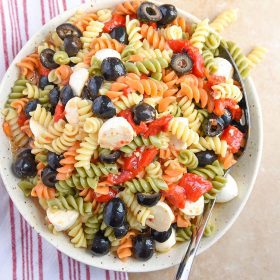 Tri Colored Pasta Salad Recipe
This Tri Color Pasta Salad is a quick and easy rotini pasta salad that is great for picnics and potlucks! We especially love making this tri colored pasta salad when entertaining or bringing food to family and friends.
click the stars to rate this recipe
Print
Pin Recipe
Ingredients
1 16

oz

box of tri color pasta

, cooked

8

oz

mozzarella balls

, cut in half

2

cups

of olives

, cut in half

2

roasted red peppers

, cut in half (we use jarred)

2

cups

Italian Dressing
Instructions
In a large bowl pour in the pasta.

Add in the mozzarella, olives, red peppers, and dressing.

Mix ingredients together and then place into the refrigerator overnight.

Serve as desired.
Nutrition
Calories:
323
kcal
|
Carbohydrates:
35
g
|
Protein:
9
g
|
Fat:
16
g
|
Saturated Fat:
3
g
|
Cholesterol:
6
mg
|
Sodium:
839
mg
|
Potassium:
140
mg
|
Fiber:
2
g
|
Sugar:
5
g
|
Vitamin A:
135
IU
|
Vitamin C:
3.1
mg
|
Calcium:
95
mg
|
Iron:
0.8
mg
The nutritional information is automatically calculated and can vary based ingredients and products used. If the nutrition numbers are important for you we recommend calculating them yourself.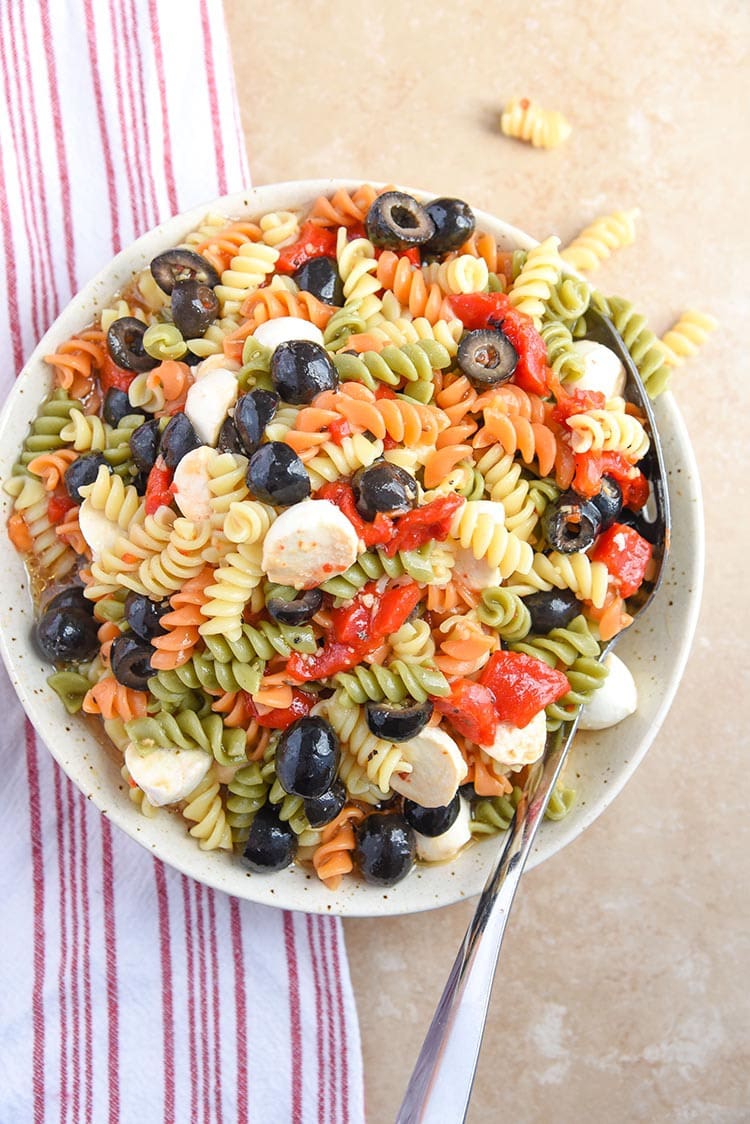 Need more potluck salads?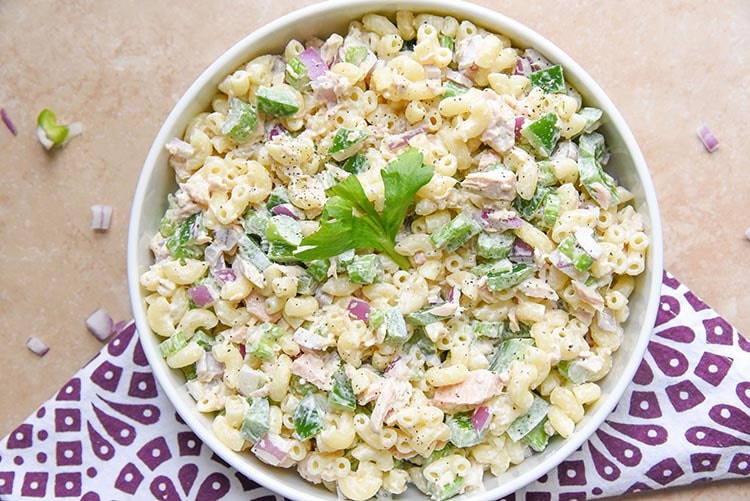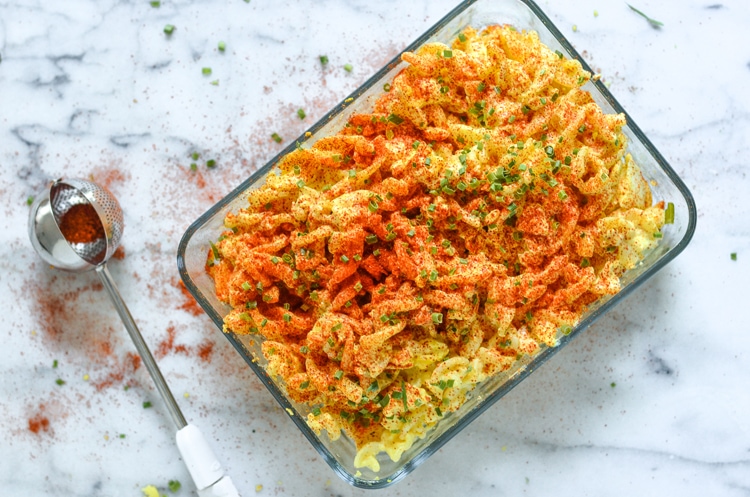 Bowties with Parsley Garlic Butter Sauce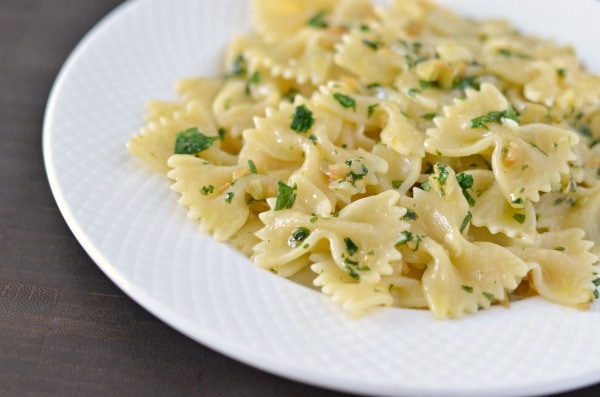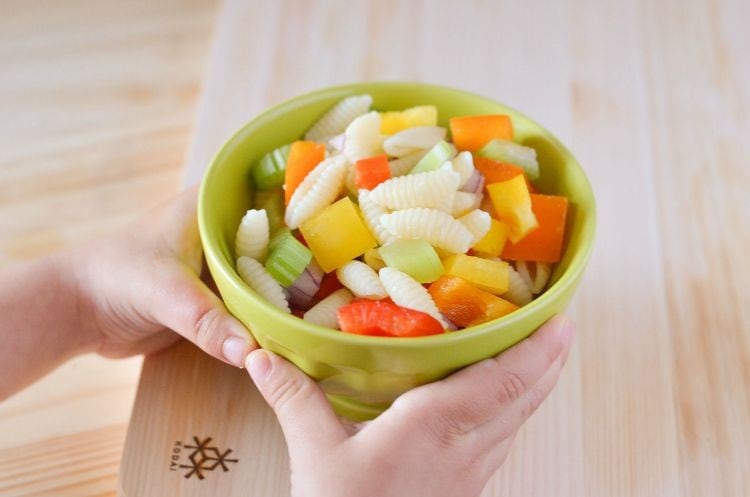 Easy Vegetarian Penne Pasta Recipe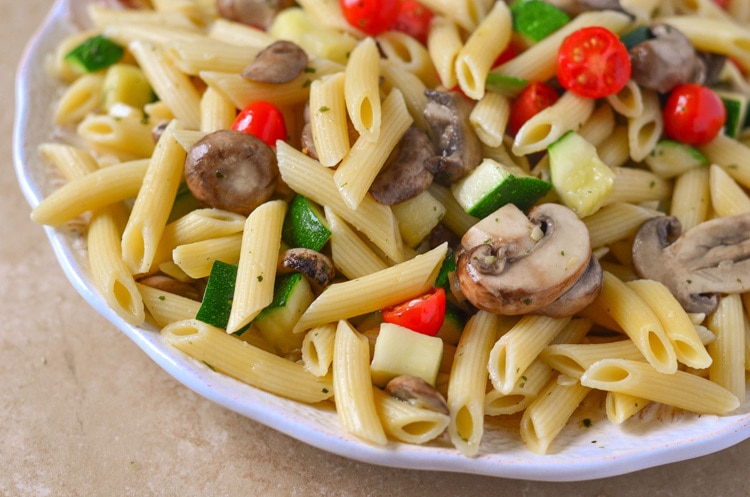 Spicy Garlic Tomato Marinara Penne Pasta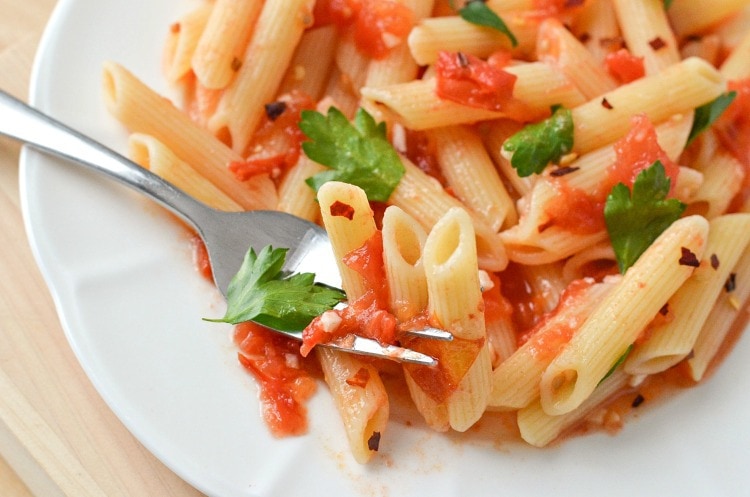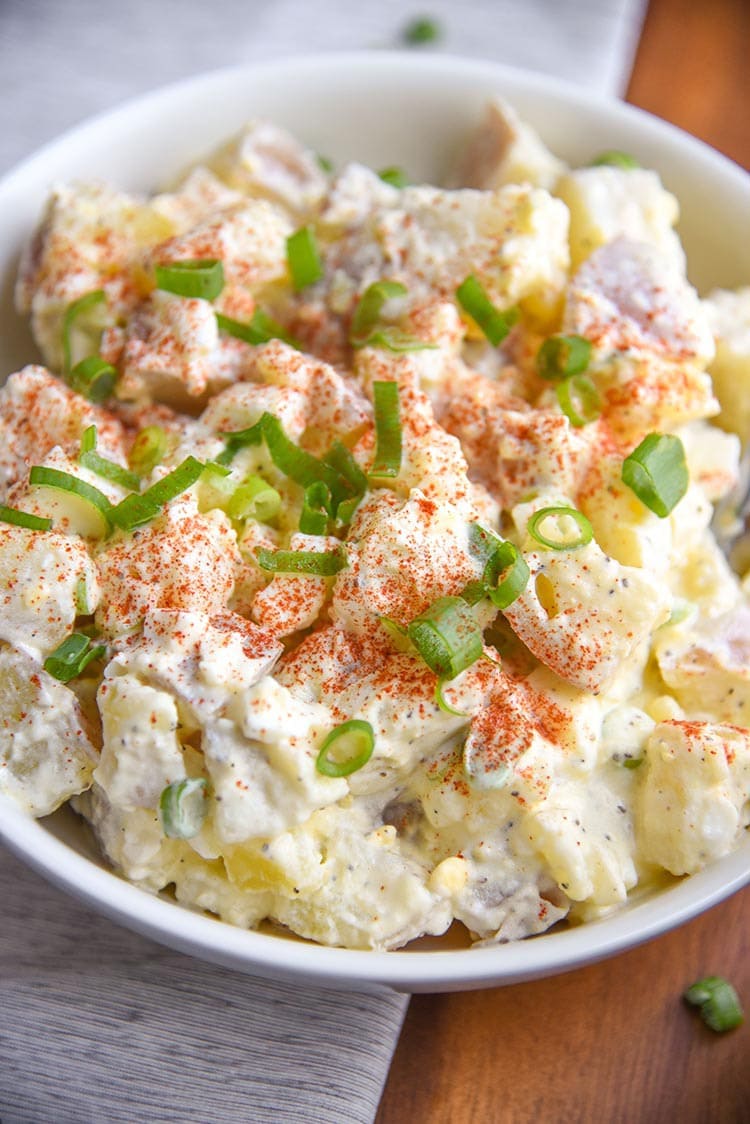 Joseph Joseph Updated Scoop Strainer/Colander/Slotted Spoon, Large, Green

We love using a handheld strainer.
Not a small one, I'm talking about the big daddy of all straining spoons.
You can nearly get all the pasta you're cooking in one quick scoop if it's a medium amount. When I'm doing a large recipe, I can just scoop whatever I need and place it into the dish.
This handheld colander is great for when I just want to place my pasta right into the homemade marinara sauce.
It goes right into the sauce without having to drain over the sink since you're just draining the water right then when you scoop it up.
I also do this with vegetables or anything that needs straining.
We hope you try and enjoy our Tri Colored Pasta Salad Recipe! 🙂

I am hosting Mini Chef Mondays along with 4 fabulous bloggers, find out more about the Mini Chef Mondays Team!
Join our facebook group to find even more recipes and share your own recipes!
Get featured and follow us too!
Be sure to check out each of their Mini Chef posts as well!