If you're looking for a pork chop marinade that's perfect for grilled pork chops or even baked pork chops, this is it! It's full of flavor, a quick and easy marinade recipe that's perfect for your family dinner or your summer bbq parties. You can even use simple marinade recipe on chicken and steak!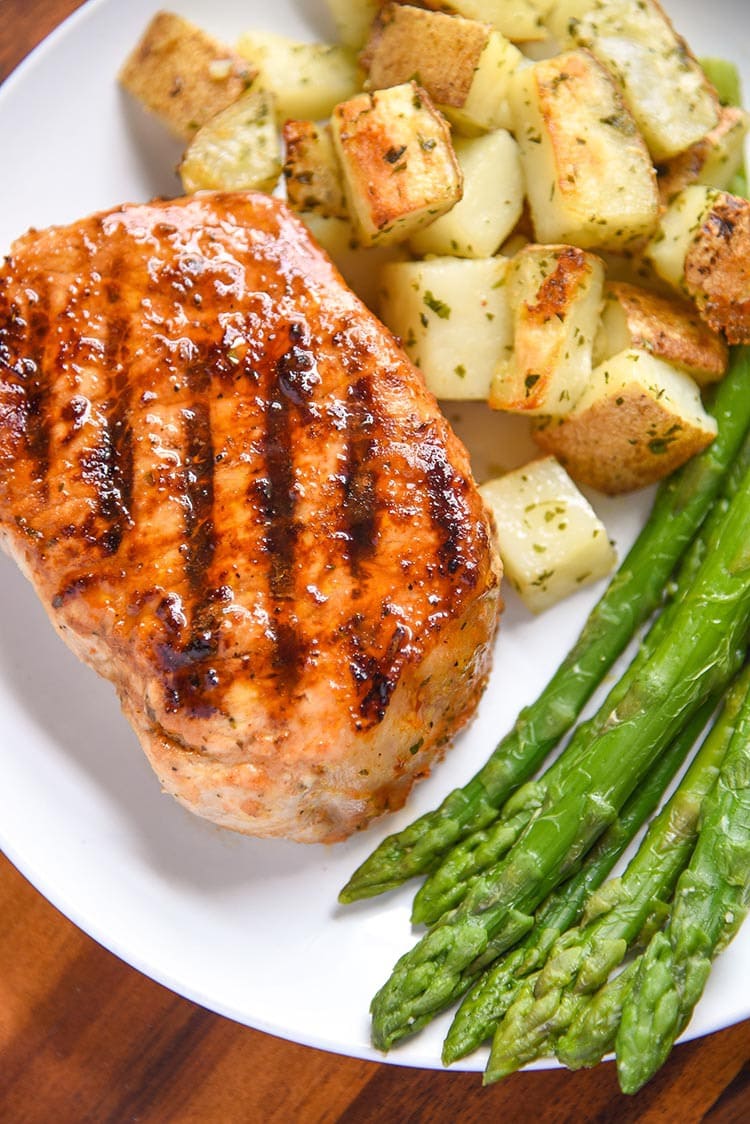 My mom always made pork chops, and she would just sprinkle them with season salt, pepper, and garlic salt and be done with it. They're delicious this way, but I loved a marinated pork chop. It's juicier, more flavorful, and it's perfect for grilling pork chops. I've even used this pork marinade recipe on chicken breasts and skirt steak.
PORK CHOP MARINADE
We always use glass when we do our marinade for pork chops or any other raw meat. We place the boneless chops into the glass container and then smother with our homemade marinade. Once it's covered we like to move the pork chops around making sure each piece of pork is covered in the pork marinade.

HOW LONG TO MARINATE PORK CHOPS:
The key to marinating your pork chops is allowing the marinade to get into the meat. To get the marinade flavored on the outside and a bit in you can marinate for about 4 hours or refrigerate overnight with the marinade.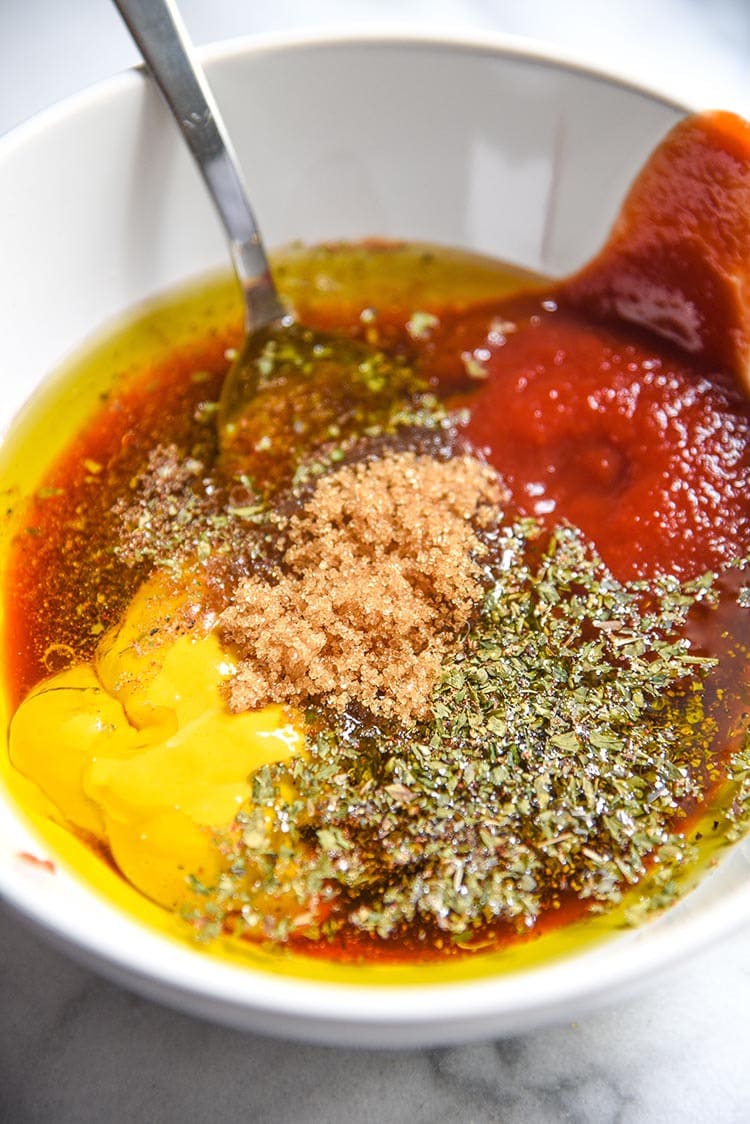 ADDING SWEETENERS TO YOUR MARINADE:
The sweetener I use for our marinade depends on how I'll be cooking it. If I'm making my pork chop marinade with honey, I'll use an outdoor grill, but if I'm using an indoor grill, I like to use the brown sugar. The honey gets a bit more sticky and harder to clean off of the indoor cast iron grill. Both are delicious!
ADDING SALT TO YOUR MARINADE:
There are different ways to add salt to your marinade. When you use soy sauce you'll have great flavor, but quite a bit of salt. You can use soy sauce in this recipe, but we prefer to use liquid coconut aminos which have less soy. Don't have either of those? Just use some salt.
Coconut Secret Organic Raw Coconut Aminos Soy-Free Seasoning Sauce-8 Oz

My family really enjoys flavorful food, but we don't need all the salt. With liquid coconut aminos (healthy replacement for soy sauce) we still get that salt flavor you'd get with soy sauce.
Coconut Aminos is great for those who suffer from soy allergies and gluten intolerant.
It's a great soy-free alternative for your favorite marinades, dressings, stir-frys and of course sushi!
Best of all it doesn't have a coconut flavor, so no worries there!
It's actually made from the coconut sap and it has a rich salty flavor, with a hint of sweetness. It's perfect for our recipes where we use soy sauce, especially this chicken egg roll bowl recipe!
If you're baking your pork chops in the oven, you can pat the marinade off with a paper towel so that there's not a ton and it doesn't burn on the sheet pan. We like serving with baked potatoes and asparagus. You could serve with whatever you like! We hope you enjoy this quick and easy marinade recipe.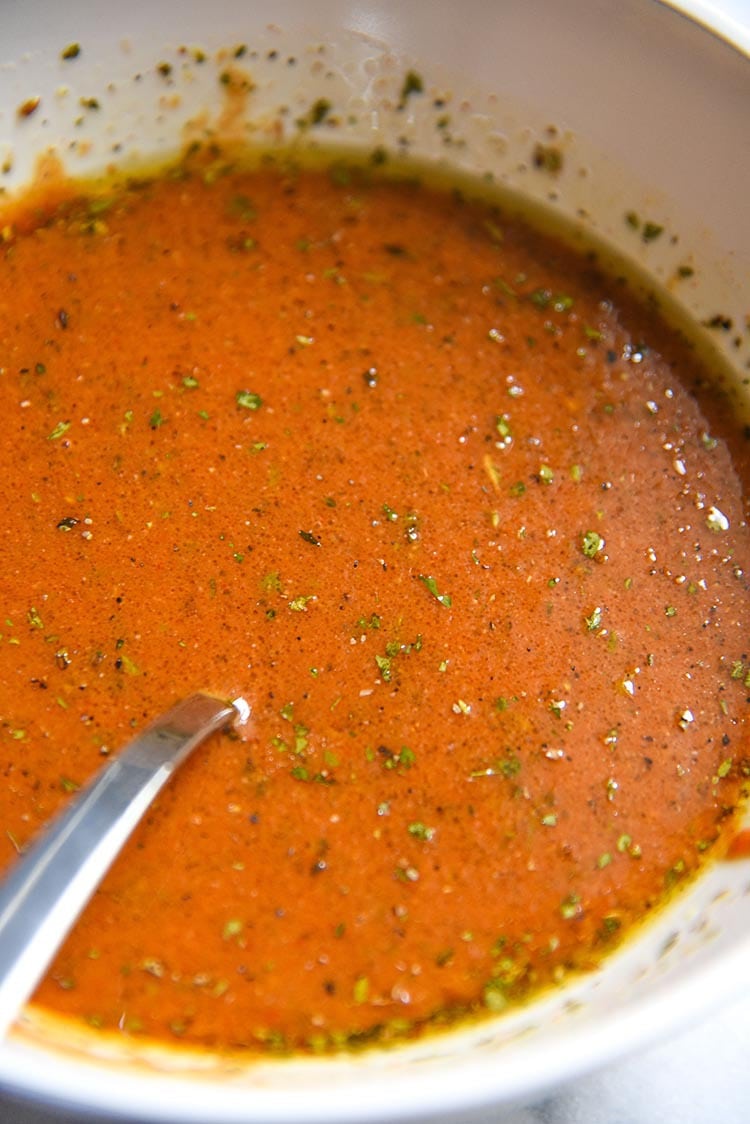 HOW TO COOK PORK CHOPS
We bake our pork chops at 350 degrees f.
Baked Pork Chops How long to cook pork chops in the oven will depend on the thickness. We aim for 25-35 minutes, depending on the thickness. You always want to make sure they're cooked to your liking by using a thermometer. The pork chop temperature should be 145 degrees Fahrenheit. I actually like to cook ours until they're well done and it still is a great baked pork chop recipe if it's well done!
Grilled Pork Chops – When you're making grilled pork chops boneless pork chops will definitely cook quicker than bone-in pork chops. Boneless typically take about 10-15 minutes total whereas bone-in will take 10 minutes longer. Boneless chops are our favorite cut of pork aside from bacon!
What temperature to cook Pork Chops
The pork chop internal temperature should be at least 145 degrees Fahrenheit. We prefer our pork chops well done and go over that temperature.
We hope you enjoy this marinade for pork! It's definitely a keeper 🙂
If you liked this pork chop recipe you'll love our brown sugar pork chops or our slow cooker bbq pulled pork recipe!
Using our pork chop marinade for a bbq? Try our summer salad recipes!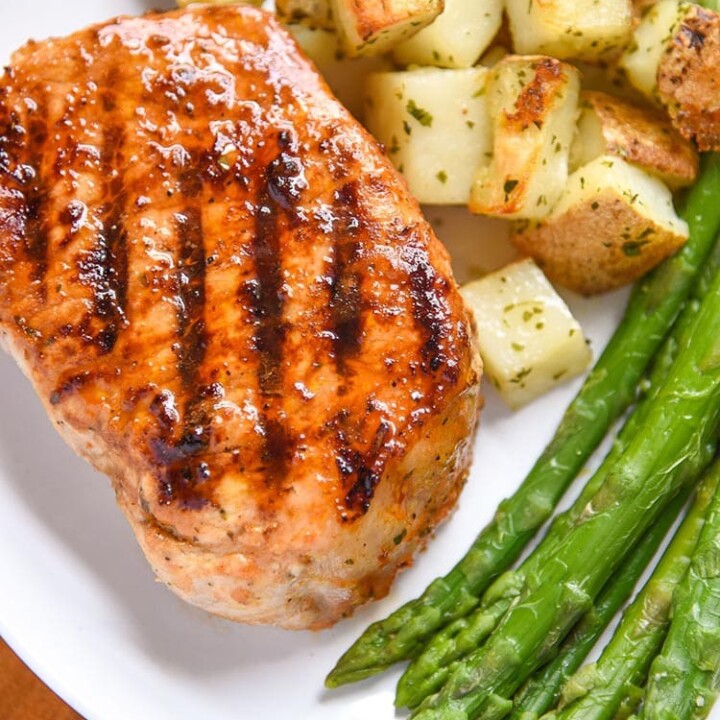 Pork Chop Marinade
If you're looking for a pork chop marinade that's perfect for grilled pork chops or even baked pork chops, this is it! It's full of flavor, a quick and easy marinade recipe that's perfect for your family dinner or your summer bbq parties. You can even use this homemade marinade on chicken and steak!
click the stars to rate this recipe
Print
Pin Recipe
Ingredients
4

Pork Chops

1/4

cup

Coconut Aminos or 1/8 cup Soy Sauce

1/2

Cup

Olive Oil

1/4

Cup

Vinegar

White

1/4

Cup

Ketchup

1/8

Cup

Mustard

1

Tablespoon

Brown Sugar or Honey

1

Teaspoon

Granulated Garlic

1/2

Teaspoon

Parsley

1/2

Teaspoon

Oregano

1

Teaspoon

Pepper
Instructions
Combine all of the ingredients in a bowl and mix until combined.

Place pork chops into a dish and pour the marinade over them.

Cover pork chops and refrigerate for 4 hours or even overnight to marinate.

Once pork chops are fully marinated, place onto the grill and cook until it reaches the desired temperature.
Notes
Nutrition calculator includes all marinade, which will not be used.
Nutrition
Calories:
502
kcal
|
Carbohydrates:
11
g
|
Protein:
29
g
|
Fat:
36
g
|
Saturated Fat:
7
g
|
Cholesterol:
89
mg
|
Sodium:
630
mg
|
Potassium:
566
mg
|
Sugar:
6
g
|
Vitamin A:
75
IU
|
Vitamin C:
0.6
mg
|
Calcium:
18
mg
|
Iron:
1.1
mg
The nutritional information is automatically calculated and can vary based ingredients and products used. If the nutrition numbers are important for you we recommend calculating them yourself.