Everyone loves comfort food recipes, especially easy comfort food recipes! All of these recipes are sure to please, especially when you want comfort in a bowl or on a plate!
Parmesan Crusted Pork Chops – Make our Parmesan Crusted Pork Chops recipe for a no fuss family dinner. We hope you love this oven baked pork chops recipe as much as we do!
Lasagna Bolognese – Our Lasagna Bolognese is the ultimate meat lasagna recipe. We use a combination of ground beef and short ribs that are falling off the bone, plus it can be made simple by using leftover Sunday Sauce too!
Smothered Pork Chops – Smothered Pork Chops Recipe with Spinach Spaghetti makes for a complete meal! Pan fried pork chops, onions, garlic, spinach, and spaghetti with a creamy sauce, what's not to love?
Baked Boneless Chicken Thighs – This sweet baked boneless chicken thighs recipe cooks up in less than 30 minutes! A chicken recipe that is loaded with flavor like sweetness, salty, and garlic! Learn how long to bake boneless chicken thighs for the juiciest and tender chicken dinner.
Slow Cooker Pork Chops and Potatoes – Slow Cooker Pork Chops and Potatoes always makes for a quick and easy slow cooker dinner! Set this in the morning and cook on low for 6-8 hours or set in the early afternoon and cook for 3-4 hours.
Slow Cooker Pulled BBQ Chicken – This Slow Cooker Pulled Chicken is a must make! Enjoy this slow cooker bbq chicken as is or place it on a sandwich for a delicious meal!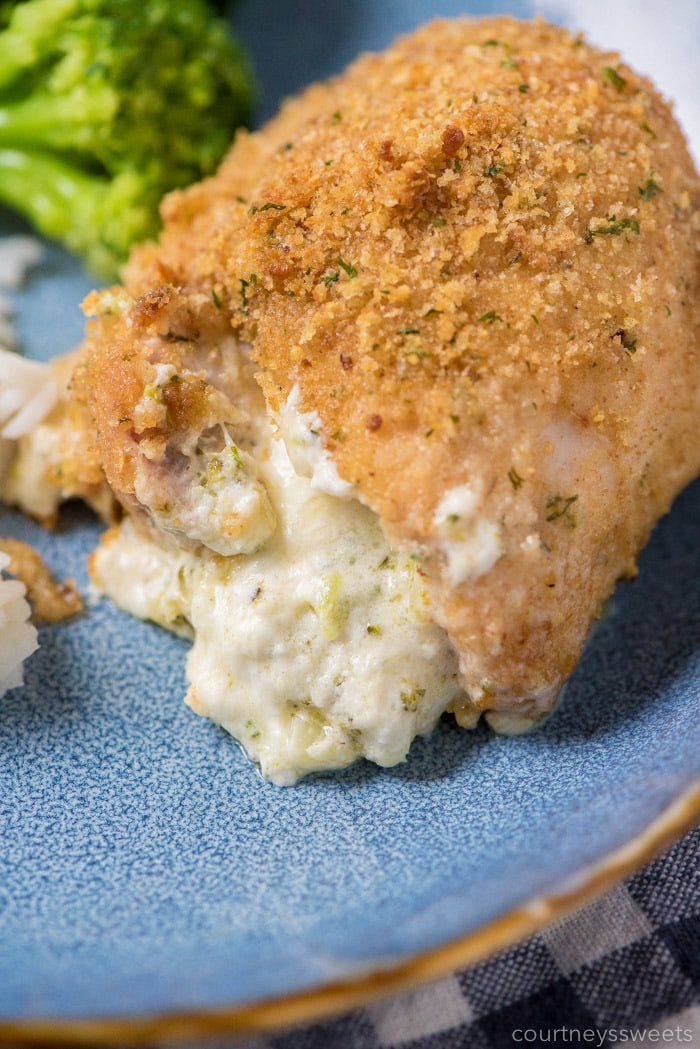 Broccoli and Cheese Stuffed Chicken – Broccoli and Cheese Stuffed Chicken is a fancy dish that will wow your guests! We make it even easier and affordable, these are stuffed chicken thighs!
Baked Spaghetti and Meatballs – Baked Spaghetti and Meatballs is an easy dinner recipe of Italian Meatballs, Homemade Marinara Sauce, Al Dente Pasta, Ricotta Cheese, Mozzarella, Basil, and Parmesan Cheese.
Flounder Chowder – A rich and creamy New England Clam Chowder recipe where we swapped Flounder for Clams. Very subtle flavor of the sea with the flounder make this a great soup without clams.
Garlic Bread Recipe – The best Garlic Bread Recipe, our homemade garlic bread is easy to make and we even have a video showing you how to make garlic bread at home using simple ingredients.
Beef Chili Recipe – This beef chili recipe is loaded with beef and beans! if you're looking for a ground beef chili recipe that will be filling and comforting this is it! Our homemade chili recipe is a beef and bean chili but you could even swap beef out for ground chicken or turkey!
Baked Pork Chops and Rice – Full of flavor, Baked Pork Chops with Rice Asparagus and Mushrooms. This comfort food favorite is a one pan meal baked in a casserole dish.
BBQ Pulled Pork – Our BBQ Pulled Pork recipe is a keeper! This a bbq pulled pork slow cooker recipe that you can make hours before dinner time for a quick and easy dinner. We love making pulled pork sandwiches, and we alwaysserve bbq pulled pork with coleslaw!
Air Fryer Baked Potato – Our Air Fryer Baked Potato recipe is the ultimate air fryer side dish! Cover your baking potatoes with our parsley garlic salt rub. The garlic parsley potatoes skin is flavorful and crispy!
Air Fryer Baked Sweet Potato – Our Air Fryer Baked Sweet Potato recipe results in a sweet potato baked to perfection!
Devlied Egg Pasta Salad – Super simple Deviled Egg Pasta Salad Recipe. It's a great recipe for entertaining and it's a must make Thanksgiving Recipe, even use leftover deviled eggs.
Slow Cooker Mac and Cheese – This Slow Cooker Mac and Cheese is so easy that you can make it by just dumping all the ingredients right in! You'll love this easy crock pot mac and cheese recipe.
Cheesy Garlic Mashed Potatoes – Cheesy Garlic Mashed Potatoes are the perfect holiday side dish that everyone will enjoy. Vegetarian and delicious, Garlic Cheese Mashed Potatoes are a hit every time!
Tuna Macaroni Salad – Tuna Macaroni Salad can be made in less than 15 minutes! It's a versatile recipe meaning if you don't want to make macaroni salad with tuna you can swap in chicken or even leave the protein out. Great for potlucks, keep it chilled as it's a cold tuna macaroni salad with mayo.
Potato Salad with Eggs – Our Quick and easy Potato Salad with Eggs Recipe is a great summer side dish for parties. Kid friendly recipe kids can help make it too!
Easy Coleslaw Recipe – Try our Easy Coleslaw Recipe! Don't want shred all the cabbage and carrots for coleslaw? Buy already shredded coleslaw mix and make our coleslaw dressing recipe to pour right over top. Learn how to make coleslaw with our easy recipe and video!
Perfect Mashed Potatoes – These are the perfect mashed potatoes, every time! Learn how to make KitchenAid Stand Mixer mashed potatoes.
Tri Colored Pasta Salad – This Tri-Color Pasta Salad is a quick and easy rotini pasta salad that is great for picnics and potlucks! We especially love making this tri colored pasta salad when entertaining or bringing food to family and friends.
Chicken Asparagus Pasta – Chicken Asparagus Pasta makes for a filling and delicious chicken dinner! We use breaded chicken breasts with our homemade breadcrumbs, fresh asparagus, penne pasta, and of course fresh garlic for this chicken and asparagus pasta recipe.
Chicken Pasta Salad – This Chicken Pasta salad is full of flavor and easy to make! Make for potlucks, parties, or even to go with lunch and dinner.
Caprese Pasta Salad – Make this Caprese Pasta Salad for a delicious vegetarian pasta salad recipe. Everyone will love this easy pasta salad inspired by Caprese Salad, but instead basil tomato mozzarella pasta!
Roasted Red Potatoes – This Roasted Red Potatoes recipe is a cheesy potato side dish that packs flavor in each bite, can be enjoyed with or without mozzarella cheese.
Roasted Beets and Sweet Potatoes – Roasted Beets and Sweet Potatoes make for a healthy and delicious side dish for the whole family. Add to salad, even great in vegetable wraps!
https://www.knowyourproduce.com/roasted-beets-and-sweet-potatoes/Roasted Butternut Squash – Caramelized deliciousness, Roasted Butternut Squash! Turn fresh butternut squash into a sheet pan side dish that everyone will love!
Easy Macaroni Salad Recipe – Easy Macaroni Salad Recipe for potlucks and parties. This is a vegan macaroni salad that tastes just as good as the old fashion pasta salad recipes, but it's plant-based!
Roasted Baby Potatoes – Roasted Baby Potatoes with Garlic and Parsley is full of flavor. The potatoes are creamy and the roasted garlic will have you coming back from more too! This vegan side dish is also gluten-free.
Instant Pot Lentil Soup – Instant Pot Lentil Soup is an easy, hearty, comforting meal. But the best part is how fast and easy it is to make. Simply toss everything in the Instant Pot, and you'll have amazing lentil soup in about 30 minutes. This Instant Pot Soup is both gluten free and dairy free as well.
Crock Pot Chicken and Stuffing – Extra-juicy chicken and savory stuffing simmer together in the crockpot with your favorite vegetables for an easy, comforting meal that the family will love!
Creamy Chicken Noodle and Vegetable Soup – Delicious, comforting and filling, this homemade creamy chicken noodle and vegetable soup makes a nice change from the classic chicken noodle soup.
Easy Baked Ziti Casserole – This easy baked ziti recipe is a layered Italian casserole full of noodles, ground beef, and creamy cheese. It makes a large casserole and is great for leftovers!
Slow Cooker Italian Meatballs – These Easy Slow Cooker Italian Meatballs with homemade marinara sauce is a delicious, make-ahead dinner! With a freezer meal option, you can make crockpot meatballs faster than ever!
Slow Cooker Italian Beef – This Slow Cooker Italian Beef is an easy dinner recipe inspired by the Chicago staple that has so much flavor it will literally melt in your mouth!
Cheesy Ranch Potatoes – Cheesy Ranch Potatoes are a mouthwatering potato side dish to spice up your dinner routine! These easy to make potatoes are creamy, cheesy, and ready fast!
Homemade Beef Stew – Beef Stew is easy to make with tender fall apart beef and hearty vegetables. It is super flavorful, rich, and PERFECT for cold days. A full and delicious meal that the entire family will love.
One Pot Goulash – This One Pot Goulash is comfort food that will remind you of Grandma's kitchen! A hearty and satisfying dish!
Copy Cat Panera Mac and Cheese – This Mac and Cheese is the real deal – she even got it from Panera's own website when they posted it while back!
Pepperoni Pizza Mac and Cheese – For those times when you can't decide what to eat, I suggest you whip up this Unbelievably Cheesy Pepperoni Pizza Macaroni & Cheese. It's a cross between two of your favorite things, pizza, and pasta. Your family will thank you!